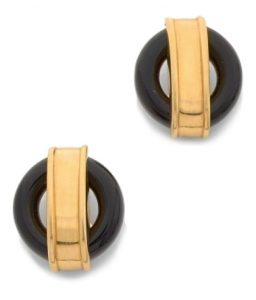 Famous for designing one of the most popular Cartier jewels of all time, Aldo Cipullo's name will forever be synonymous with bold, modern jewelry that reflected the mood of New York in the 1960s and 70s.
He was born in Naples, Italy in 1936 but grew up largely in Rome. By his early twenties, his ambition had driven him to New York where he arrived in 1959 to study at Manhattan's famed School of Visual Arts.
After graduating, he found work designing for the American jeweler David Webb before leaving to join Tiffany & Co. It was his move to Cartier in 1969 however that would bring him to the attention of jewelery aficionados worldwide.  Within months of arriving, he had designed a simple and sleek gold bangle inspired by antiquity but interpreted in a thoroughly modern style.  The 'Love' bangle was created in two halves which were placed around the wrist and 'locked' together via two screws which were tightened with the tiny screwdriver that accompanied every bracelet.  A couple of years later in 1971, he produced another now iconic design, the Juste un Clou (just a nail) bracelet which was celebrated for its daring, masculine motif that he had made feminine and sexy.
During his time with Cartier, Cipullo created multiple collections and was the only designer allowed to sign Cartier pieces.  He believed that inspiration could be found all around and he had the ability to transform everyday shapes and motifs into desirable jewels. This talent, coupled with his fondness for whimsical motifs such as gaming symbols, fish and anchors revealed a man with his finger firmly on the pulse of American contemporary culture. .
He left Cartier the following year, 1974, in order to establish his own freelance atelier and gain complete design freedom.  He created an award winning men's jewelry collection and a costume jewelry collection for Trifari as well as his now famous pieces featuring the US dollar sign which he described as being like "the electric eye that reflects the mood of this country".  Cipullo was a handsome and charismatic man who embodied the 'work hard play hard' ethos and took full advantage of everything New York had to offer during the hedonistic 70s.
In 1978, he was commissioned by the American Gem Society to create a collection of jewels showcasing the gemstones of America. The 31 pieces were set with gems such as sapphires from Montana, diamonds from Arkansas and turquoise from Arizona and after a tour of the United States were donated to the Smithsonian Museum.
Sadly Cipullo's success was cut short in 1984 when he suffered a double heart attack and died at the age of just 48. Decades later his designs have withstood the vagaries of fashion and many have become iconic, collectable pieces loved by people every bit as stylish and fun-loving as the man who conceived them.